Dr Matthew Davies has been named as an Honorary Professor at the University of KwaZulu-Natal (UKZN) in Durban, South Africa.
Dr Davies has been working with the South African University since 2009, when he first visited UKZN at the end of his PhD. He has run several events both in Swansea in Durban, mainly focusing on developing sustainable materials for photovoltaics. In 2013, staff from SPECIFIC, Swansea University, and UKZN delivered a series of workshops to over 1300 schoolchildren in Durban and Mafikeng. The purpose of the two-week project entitled 'Catching the Light with the Rainbow Nation' was to inspire the students to take a greater interest in chemistry. The workshops were funded by SPECIFIC and the team worked with the charity SOS Africa, who provide education and care for the poorest children in the region.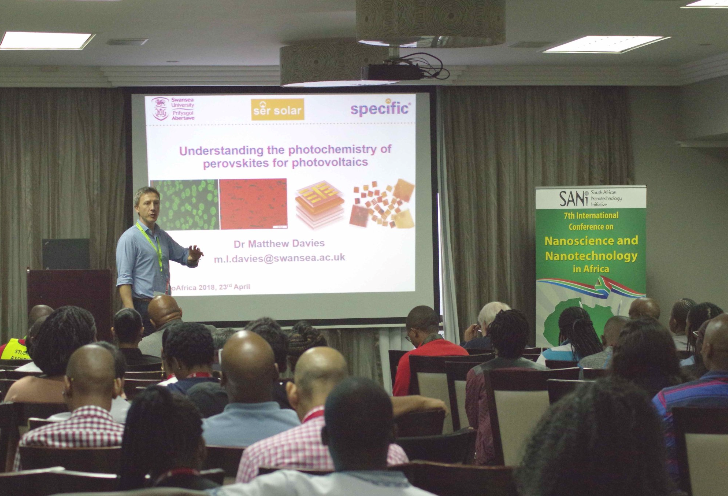 Since then, Dr Davies has also helped set up a solar energy testing facility at the Smart Grid Centre in UKZN. Secured through GCRF funds, the facility is being used to monitor outdoor real-world performance of a range of complete systems (PV panels, batteries, charge controllers, loads etc) with the aim of developing strategies for the optimum deployment of photovoltaic systems in rural Africa. It is hoped that failure mechanisms can be identified in order to inform the future eco-design, maintenance requirements and circular business models and supply chains to improve the sustainability of such systems and to avoid the generation of electronic waste. 
UKZN are also partners of the ACCEPTED project (Acceleration of Circular Economy for Printable Photovoltaics Through Eco-Design). And thanks to Dr Davies' close ties with the University, UKZN has recently become part of the SUNRISE network.
Dr Davies said of the professorship:

"I am extremely proud of this appointment, I have been fortunate enough to work with wonderful people at UKZN and have great memories of working in Durban over the years, I am very excited for the research future that lies ahead of us."