We have received a 2019 Royal Society International Collaboration Award to print photovoltaics in Mexico using their existing screen-printing infrastructure.
As part of the Global Challenge Research Fund (GCRF), the Royal Society award enables UK research leaders to develop international collaborations with the best researchers from around the world, to work on some of the global challenges and problems facing developing countries.
Our project will work with CINVESTAV in Merida (Mexico) to investigate and overcome scientific challenges associated with transferring low-cost, screen-printed solar cell technology from the laboratory setting to the well-established screen-printing capabilities, expertise and infrastructure indigenous to Mexico. These challenges will be addressed through three objectives:
Replacement of high-toxicity solvents for safe, sustainable alternatives.
Low-temperature processing of device structures.
Interconnection of processes for module manufacture.
The project builds on a recent one-year British Council Newton Fund Institutional Links project (UK-Mexico) which included the active participation of the Mexican screen-printed textiles supply chain. It also aligns with the GCRF Translation Award, which enabled CINVESTAV to be formally introduced to the SUNRISE network.
The solar energy research and development group at CINVESTAV has extensive experience in synthesis of nanomaterials for solar energy conversions, while the PV group at SPECIFIC specialises in wholly solution-processed photovoltaics. The partnership has so far been fruitful, producing several research exchanges, collaborations, and workshops.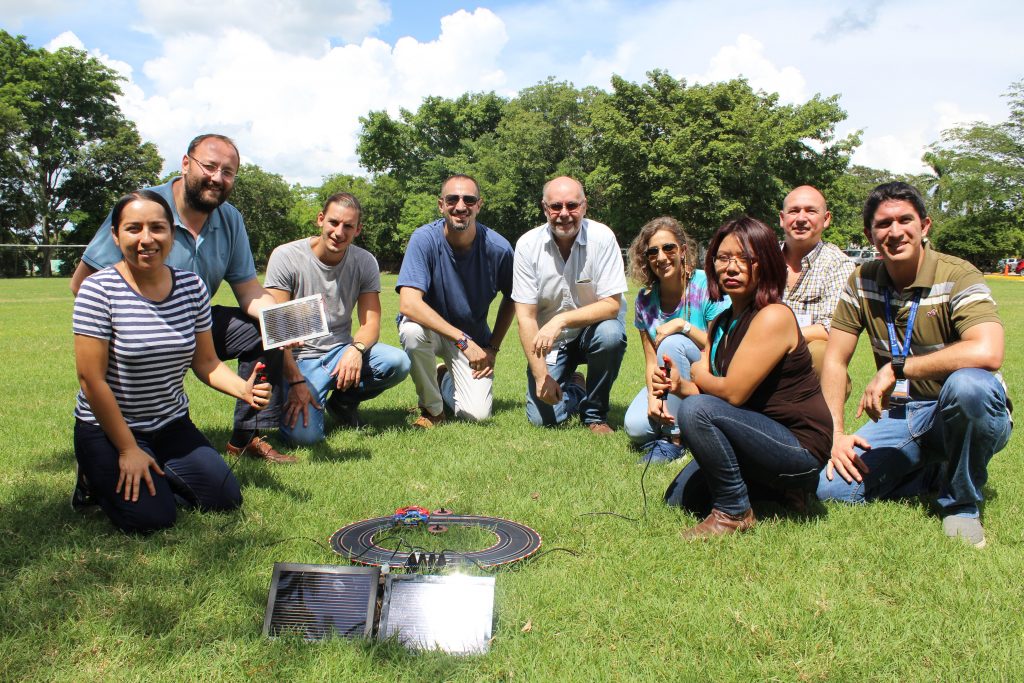 Prof Gerko Oskam from CINVESTAV, said:
"The Royal Society collaboration award for the development of inexpensive perovskite photovoltaic technology by SPECIFIC at Swansea University and the Nanomaterials group at CINVESTAV-Mérida using simple but green fabrication methods provides a unique opportunity to leverage scientific research for real impact.

In particular, by first-hand access to the extensive scientific and engineering knowledge and capabilities of the SPECIFIC team at Swansea University, and based on our complimentary scientific backgrounds, we aim to achieve the development of green materials and processes that may be transferred to local, small Mexican companies, thus advancing in the goal to increase the implementation of affordable and clean solar energy."
Given the imperatives of the 'energy trilemma' global challenge (security, equity, sustainability), it is vital to develop ways to economically scale-up the fundamental science of third-generation photovoltaics (perovskites and organic photovoltaics). Rising carbon emissions from conventional energy generation, particularly in developing countries, are a heavy burden on the global environment, and despite commitments to decarbonisation targets, demand for energy continues to rise. This collaboration will use local manufacturing and materials to develop a scalable, sustainable solution to said 'energy trilemma', as well as contributing to SUNRISE's key goals of building global collaborations and developing capabilities.
Dr Dena Pourjafari from CINVESTAV added:
"Our collaborations have united us to pursue our common objectives: sharing knowledge, growing new ideas and hard work are the elements of our union, which will result in progress, success and moving forward."
Enough solar energy falls on the earth every day to power the world for 27 years — it is time to harness this resource through scientific advances, international collaborations, and technology transfer.